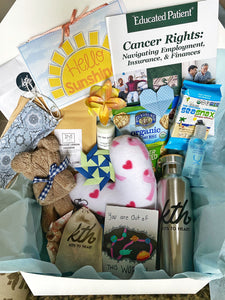 Kits to Heart
Cancer Care Kit: Give What You Can!
This page is for individual requests. If you are an oncology healthcare worker requesting kits to be delivered for your patients, please contact us here.
ℹ️ Kits to Heart is a 501(c)(3) public charity that runs on the generosity of volunteers and donors. While kits are free, the $12 flat-rate shipping is required, with any additional donations greatly appreciated to keep this program running! Please complete the form below to send a kit to yourself or a loved one.
🎗 Who is a kit for? Kits are designed to suit various cancer types, treatments, and ages. Each cancer care kit is thoughtfully curated with items to support patients undergoing treatments, with items that can be shared with loved ones. If in hospice, please make note and we will focus on comfort items.
💝 What is inside a kit? While kit items rotate regularly, every kit includes a reusable water bottle, handwritten cards, journal, care bear towels, origami, face masks, heart pillow, lip balm, ginger chews, protein snack, hand and body cream, informational resources, and friendship bracelets made by passionate volunteers. Items may also include hand sanitizer, crochet/knit bag or hat, and other special items. You may choose to request a blanket only. Please keep in mind that items vary and are not guaranteed.
🗓 When will the kit be shipped? Please look out for the shipping confirmation with the tracking number within the next three business days. United States only.
🙏 What if I need financial assistance? To have the full cost of your Kits to Heart gift covered (including shipping!), please apply through our generous partner, Cindy's Legacy.
💌 Suggestion Donation: $50
---
Share this Product