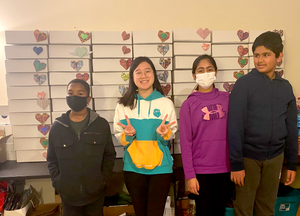 This month, Kits to Heart is so proud to feature one of our newer volunteers— Vaishnavi Uppalapati, a student from Kingsview Middle School in Germantown, MD.
Ever since we first met on New Year's Eve a few months ago, we have been so impressed by her dedication and positivity that she brings to each in-person kit assembly, where she also drops off various handmade items to make our kits even more special!
---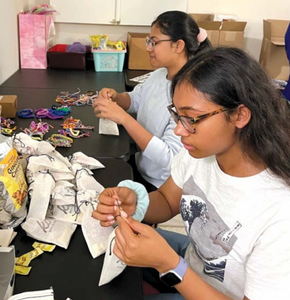 Since last summer, sisters Sanjana and Anjali Jain have been spending their Saturday mornings helping us to assemble cancer care kits. It is always a joy to have them both come support our efforts in person! They were even pictured in our story in the 
November 2022 edition of The Business Monthly
. Read more about their experiences volunteering with us!
---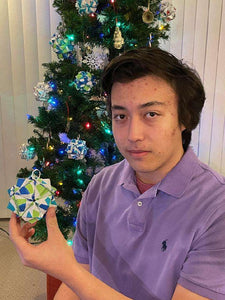 Kits to Heart is proud to shine a spotlight this month on Lyle Erickson, a student at Walter Johnson High School in Bethesda, MD, who has been volunteering for us since the summer of 2020.
---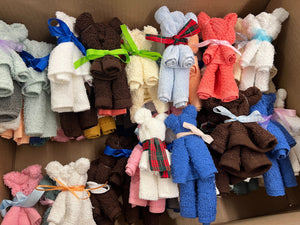 In November, more than 100 associates from T. Rowe Price gathered for a Community Service Day to support Kits to Heart. They even invited us to stop by to share our story before kicking off an afternoon of service. We are deeply grateful for their incredible efforts, including hosting a collection drive for much-needed items for our cancer care kits! Learn from the organizers about how they managed to host such a successful event across three locations with this special interview below. Kits to Heart: We were so excited to hear about T. Rowe Price's Asian Advisory Council hosting a Community...
---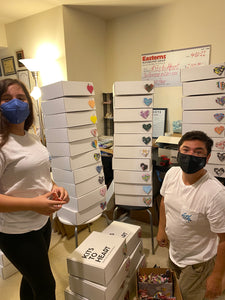 This month, we are SO proud to feature this interview with the incredible Lara family from Montgomery County, MD. Karina and her husband Mario are parents to Mario and Rukmani, and this amazing family have been some of our strongest supporters since the beginning! We are so deeply grateful for all of their help and enthusiasm, from volunteering with us on Saturdays with kit assembly, to purchasing items from our Amazon Charity List! Read more about their work below. Kits to Heart: What made you interested in volunteering for Kits to Heart?Karina Willis-Lara: A few years ago, when we discovered Kits to Heart on the Montgomery County Volunteer Center website, we immediately had...